Read it to believe it.
 Save the Date for Giving Tuesday! • Add Giving Tuesday, [...]
"I'm eighteen years old and I'm a Nationally Certified Medical Assistant and Phlebotomist. I joined J4NG because I needed help preparing for life after high school, and no other class taught life skills like J4NG. Many people are amazed that I have two titles (about to have three) at such a young age! People often ask, 'how did you get to where you are?' Honestly, it was J4NG. J4NG is the reason that I'm where I am today."
A Nonprofit with a Solid Fiscal Record
From its fledgling days serving just over 200 students in 2014 until today, J4NG has a record of stewarding state and private dollars wisely.  With a commitment to ensuring that every dollar is used to its highest purpose, J4NG's average cost per student is just over $1,400 per student per year. This investment provides over 120 hours of contact and instruction, supportive services, mentoring, college and career readiness, and a strong set of workplace readiness skills. For the last 8 years, J4NG has been declared indisputably financially solvent and responsible in accordance with generally accepted auditing principles (GAAP), and is committed to the highest standards of fiscal accountability.
Evidence Based, Data Driven.
It's how J4NG measures results and improves outcomes.
J4NG is an affiliate of a national organization with over forty years of consistently high outcomes nationwide. In Nevada, J4NG has measured its impact on the lives of students, and J4NG really does empower students to change their lives for the better. With J4NG, investors and stakeholders know exactly how J4NG students are performing. J4NG is data-driven, and uses the data it collects to continually improve the program. J4NG offers an outstanding value proposition, and for donors, knowing the impact of your investments is critical to justify the return on investment as you seek to achieve your organizational and philanthropic goals.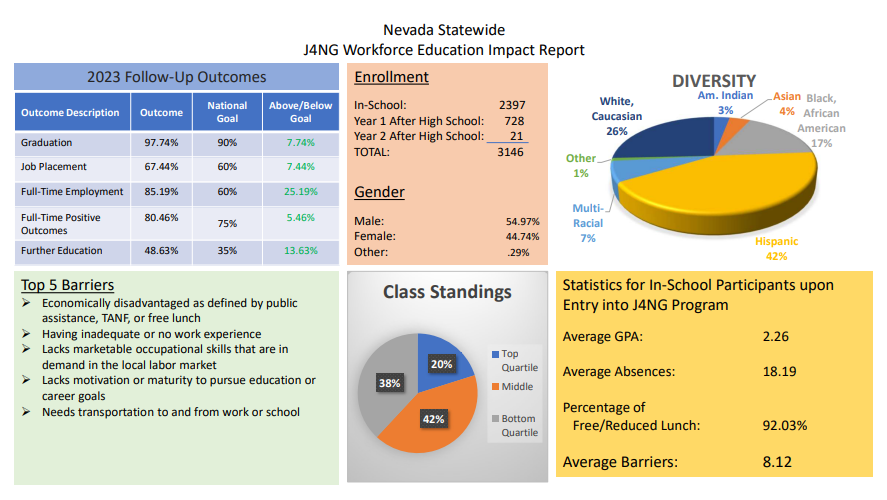 Powerful Because of Our Partners
Workforce and Employer Partners
J4NG calls upon employers and postsecondary institutions to join in creating career pathways for our college and career-ready graduates. We are the gateway to career pathways for talented youth.
Community Partners
Collaboration is a cornerstone of J4NG's work in the community. Working with like-minded agencies and organizations with distinct missions, we work together to not only reduce duplication but to close gaps in service and support to students. We invite you to partner with us.
GET INVOLVED TODAY

Are you interested in supporting J4NG in its mission to help elevate achievement outcomes for Nevada Students?
J4NG works because people are committed to helping youth. If you want to join us or know a student who needs our help, contact us.